Scanners and screeners
Bollinger volatility | Bullish Break-out | Candlestick patterns (version 1) | Candlestick patterns (version 2) | Cloud trading solution (VPS) | Fake trend reversal | Gap close | Hammer blast | Heikin Ashi | MACD Divergence | Market structure points | Pairs trading | Range Break-out | Scanners and screeners | TLB bands (version 1) | TLB Bands (version 2) | Trader drawing tools | WHS TechScan – Trading signals |
The trading platform contains ready-made screeners and scanners. New ones are added regularly. Traders can also design their own screeners and scanners. They can start from scratch or they can use the trading signals and strategies which are available in the platform.

Screeners and scanners search for instruments which meet pre-determined criteria. Screeners search at a particular point in time. Scanners search continuously. Scanners are used on limited selections of instruments as they use PCs more intensively. They tend to be used by traders who trade on small timeframes (15' or less). These traders need instant notification of signals to quickly open their position. Screeners are launched once per day or per (half) hour. They are applied to larger selections of instruments.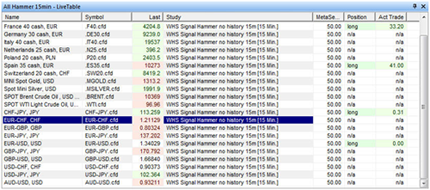 This example shows a scanner for the rare hammer candlestick pattern. The scanner notifies the trader when a signal occurs (e-mail, pop-up or sound). Previous signals are all visible. For each signal a fictive position is maintained to show the result.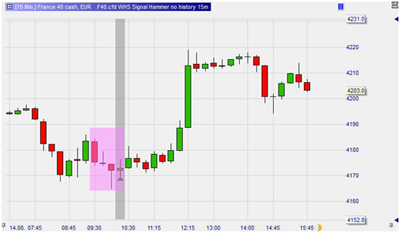 This example shows a hammer signal on the CAC 40. It is the first signal in the table above. Double-click on symbols in the scanner to see their chart.
The following screeners and scanners are currently available in the platform:
| Scanners | | | |
| --- | --- | --- | --- |
| Hammer Pattern | 15' | A rare candlestick pattern | info, info 2 |
| Heikin Ashi 3+2 | 15' | 3 of one colour followed by 2 of another colour | info |
| EUR/USD standard | 15' | Eric Lefort's signal for bullish instruments | info, forum |
| | | | |
| --- | --- | --- | --- |
| 3 Line Break Reversal | 30' | Trend reversal based on key market levels | info, forum, forum |
| Gap Close | 30' | Trends continue after a closed gap | info |
| Heikin Ashi 3+2 | 30' | 3 of one colour followed by 2 of another colour | info |
| Hammer Pattern | 60' | A rare candlestick pattern | info, info 2 |
| Today's Trend | 1d | Morning screener to find trending instruments | info |