ORDERPAD
Het zeer gebruiksvriendelijke orderpad in de grafiek biedt een grote keuze één-klik orders zoals (ver)kopen aan marktprijs, 1 contract bijkopen, positie verdubbelen, positie omkeren, enz.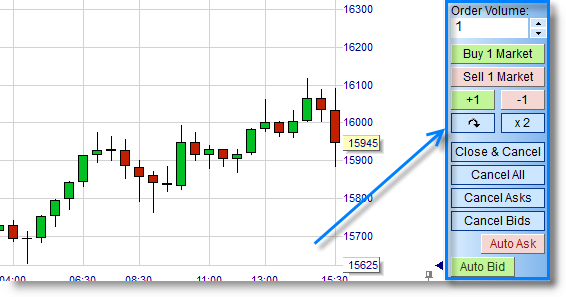 CHARTTRADER
De unieke ChartTrader kan aan elke grafiek toegevoegd wordent. Via de ChartTrader kunnen zowel markt, limiet als stop orders met één klik geplaatst worden. Het is via de ChartTrader ook mogelijk order te verbinden. Dit heet OCO (one cancels other). Indien één order uitgevoerd wordt, zal het overblijvende order automatisch geannuleerd worden.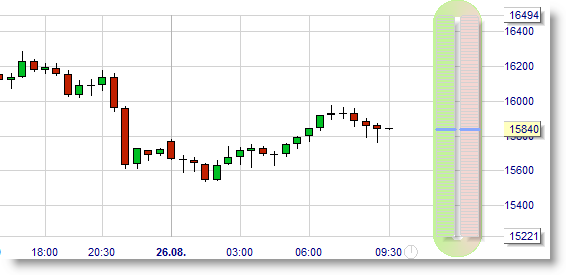 TACTIC KNOPPEN
De blauwe Tactic knoppen zijn een manier om open orders te beheren. De knoppen laten toe orders zeer precies te verplaatsen. Met één klik kan een vaste stop, bijvoorbeeld, ook omgezet worden in een trailing stop.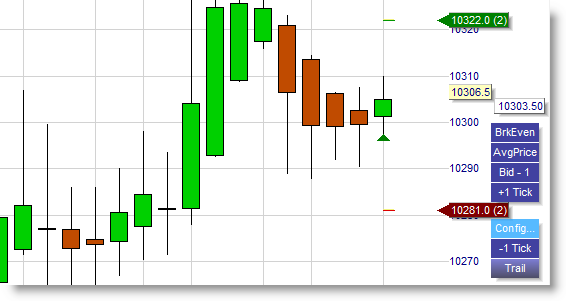 Bekijk de video 'Het plaatsen en beheren van orders'


TACTIC ORDERS
Diegenen die werken met techische indicatoren kunnen rekenen op Tactic orders. Tactic orders zet de opinie van indicatoren en trendlijnen om in trading sginalen of orders.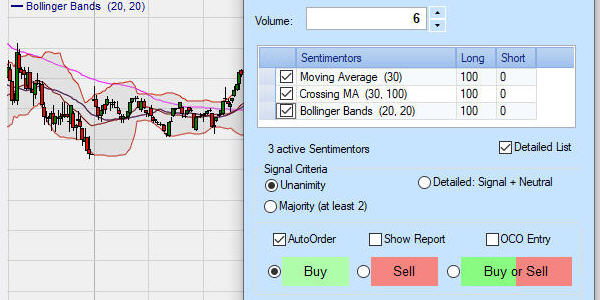 Bekijk de video 'Tactic Orders'


ORDERS VIA DE GRAFIEK
Orders kunnen geplaatst en beheerd worden via de grafiek. Dit gaat op verscheidene manieren van het eenvoudig verslepen van orders naar een nieuw prijsniveau tot de bekende één-klik Tactic knoppen. Orders kunnen ook uw trendlijn volgen.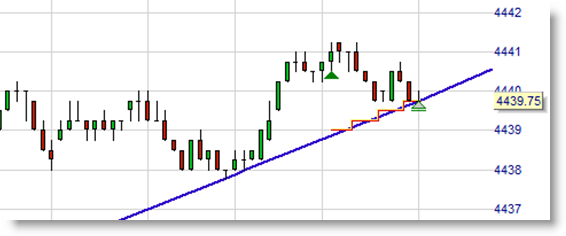 BRACKET ORDERS
Een klik op de Buy of Sell knoppen in de grafiek opent een order ticket. Deze trader heeft de intentie een order aan marktprijs te plaatsen. Hij opteert ook om automatisch een koersdoel en stop order te plaatsen eens zijn positie open is. Dit zijn de horizontale, rode lijnen. Uniek is dat hij nu reeds de orders kan versIepen in de grafiek om ze, bijvoorbeeld, te plaatsen op weerstand en support niveau's.! Bij CFDs en forex worden hiervoor Parent & Contingent orders gebruikt zoals onder getoond. Het koersdoel staat op +0,4% en de stop -zijn maximaal risico- op -0,2%. Bij futures worden bracket orders geplaatst d.m.v. de TradeGuard.