WERKBLAD KNOPPEN
De werkblad knoppen kunnen onderaan het platform toegevoegd worden. De gebruiker kan verschillende trading schermen aanmaken en bewaren. Met de werkblad knoppen kan hij snel tussen de verschillende schermen alterneren. Deze persoon heeft, bijvoorbeeld, drie trading schermen o.a. één die samengaat met de strategieën van Birger Schäfermeier.




UITVOERING ZICHTBAAR IN DE GRAFIEK
Men kan opteren om de order uitvoering zichtbaar te maken in de grafiek. De kleine, groene lijn geeft de instapkoers aan. Deze is zichtbaar rechts in het scherm (1,1197). +1 Geeft aan dat er 1 contract gekocht werd. Het stop order dat onder de positie staat om het risico te beperken is rood.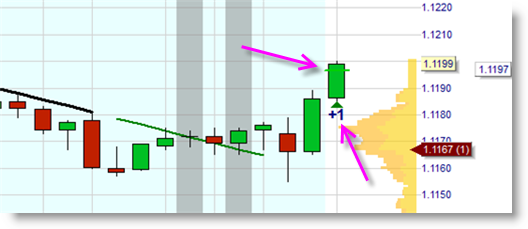 NIEUWS, ARTIKELS & IDEEEN
Wekelijks verschijnen er direct in het platform artikels van goede kwaliteit over trading, trading ideeën, golden/death cross, break-outs en andere trading topics. Klanten kunnen in het platform ook RSS feeds van hun keuze integreren.


GEÏNTEGREERDE CHAT
WH SelfInvest staat bekend voor een legendarische service. Klanten kunnen rechtrstreeks chatten via het platform met de support desk. In het forum kunnen vragen of ideeën gepost worden die door de support desk of andere klanten beantwoord worden.




DAYTRADING STATISTIEKEN
Analyseer uw trades ... verbeter uw resultaten. Daytrading statistieken genereert in het platform een analyse van uw resultaten inclusief een grafische voorstelling en gedetaileerde statistieken. Alle daytrading data kan met één klik naar Excel overgezet worden.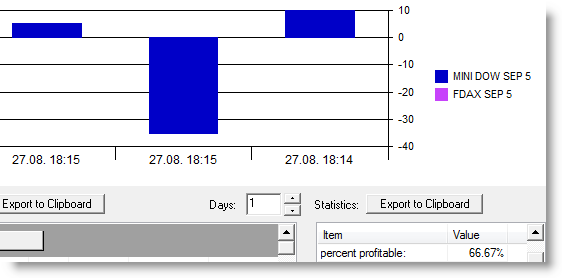 TRADING SIGNALEN
Eigen trading signalen samenstellen is eenvoudig. Beschikbare criteria die als basis voor signalen kunnen dienen zijn combinaties van kaarsen, combinaties van Heikin Ashi kaarsen, gap sluitingen, break-outs, 3-line break ... keuze ten over. Deze belegger opende een short positie na een 'RSI feigned reversal' signaal.