PLACING & MANAGING ORDERS
Every trader has his preferences when it comes to placing orders. NanoTrader offers many different ways in which orders can be placed: order ticket, one-click orderpad, via the chart, charttrader, via the order book, Tactic buttons ... The platform can also place orders automatically based on the trader's criteria. This example shows the Tactic buttons which allow traders to minutely move their order and to change the stop type.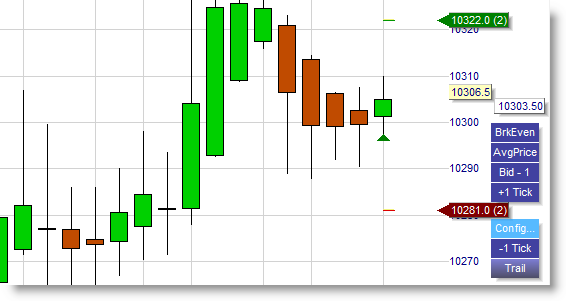 TRADER TOOLS
The NanoTrader platform contains an exceptional selection of trading tools. For example: weekly trading articles, weekly trading ideas, automated end-of-day technical analysis based on indicators and strategies, automated detection of chart patterns, trading signals via e-mail, 50+ built in trading strategies ... All trading tools are free.
In addition there is a trading store. The store allows clients to activate free and paying trading tools and strategies in their platform. Many of these tools and strategies are produced by famous traders.



Free trading strategies, free trading signals, trading store