TwinCharts allows you to create links between charts in different time frames. Most traders trade from a main chart and use additional charts in higher timeframes for decision support. These charts in higher time frames are used to determine the market trend. They are also used to identify key points such as support and resistance. In the past all charts were unconnected. TwinCharts creates connected charts and turns them into a single trading tool.

In this example a trader uses the Day chart to determine the market trend. For this purpose he has drawn a support line. All drawings, including his support line, are automatically projected in the main chart in the right scale. The yellow zone in the TwinChart corresponds to the area the trader is viewing in his main chart.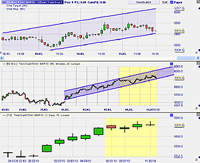 You can open multiple TwinCharts at the same time. In this example the trader has a 30 Minutes chart plus two TwinCharts: a 60 Minutes chart and a Day chart. The trend channel drawn in the middle chart is automatically replicated in the main chart in the correct corresponding scale.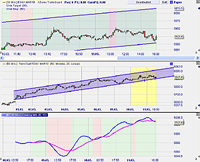 The TwinCharts combine well with another special platform functionality: the aggregation of technical indicators. This trader trades on a 10 Minutes chart. However, on his chart he displays buy/sell signals from an indicator which is based on 60 minutes. So you can use and mix indicators in different time frames.